ARCH, (Applied Research for Connected Health), the Enterprise Ireland and IDA funded Technology Centre, today announced the appointment of two new industry members to strengthen its steering committee.
Joining the Centre's steering committee are Conor O'Byrne, CEO, RelateCare and Brendan Casey, CEO, swiftQueue.
ARCH is hosted at University College Dublin (UCD) where researchers with clinical, engineering, technology, policy and economic expertise, with input from University of Limerick (UL), and almost all Higher Education Institutes in the country with connected health research capabilities, collaborate to deliver on the connected health research agenda defined by its industry partners.
The Centre's steering committee is comprised of individuals from the academic, industry and healthcare provider community with responsibility to provide balanced, neutral and independent counsel and guidance to ARCH's Centre Director in the direction and operation of the Centre as well the selection of the research priorities for the Centre.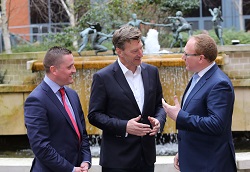 Pictured at NexusUCD are Conor O'Byrne, CEO, RelateCare, Oliver Tattan, chair of the ARCH Centre Steering Committee and Brendan Casey, CEO, swiftQueue. (Image by Gary O'Neill).
Entrepreneur and investor, Oliver Tattan, chair of the committee, said,
"I am pleased to welcome Conor and Brendan as new members. These individuals bring a wealth of experience and expertise in their fields and will be tremendous assets to our Technology Centre as we further our mission of carrying out industry informed research on the adoption, deployment and sustainability of Connected Health solutions and translating this research in a way that can enable our member companies increase competitiveness."
Conor O'Byrne said,
"I am delighted to join the ARCH Centre Steering Committee. From working with some of the leading US health systems with RelateCare, it is evident the area of connected health is a key enabler for the future delivery of patient care. As an industry focused research centre, ARCH is well placed to drive competitive advantages for its members and I look forward to contributing to the Industry voice in shaping the direction of the Centre's research strategy."
Brendan Casey commented,
"I am very pleased to join the ARCH Centre Steering Committee. ARCH is in a great position to progress and deliver on connected health research and I see the opportunity for industry partners like myself to assist in the direction and adoption of research outcomes for now and in the future."
ARCH is headquartered at NexusUCD, the Industry Partnership Centre at UCD, and 21 industry partners are currently steering the ARCH research programme.
These industry partners; S3 Group, Hermitage Medical Clinic, ADA Security Systems, Philips Healthcare, Electronic Gp, Vu2Vu, Novartis, RelateCare, ResMed, swiftQueue, HealthBridge Technology, Dolmen, McGreals, Patient Buddy, Nurse Buddy, Salaso Healthcare, Stepwise, Two-Ten Health, ICON, Caragon and OpenHealth; are all actively involved in the connected health sector.
ENDS
14 March 2016
For further information contact Micéal Whelan, University College Dublin, Communications Manager (Innovation), t:
+ 353 1 716 3712, e: miceal.whelan@ucd.ie or Michael O'Shea, Centre Director, ARCH, t:
+353 1 716 5404, e: moshea@arch.ie.
Editors Notes
ARCH is a government funded (Enterprise Ireland/IDA) technology centre hosted by UCD with University of Limerick as a partner and a panel of 4 collaborating technology instituters and universities. The Centre carries out state funded applied research in connected health that has an industry focus. ARCH has clinical/patient access via its host institution, UCD, which is the academic partner to the Ireland East Hospital Group (11 hospitals, 1 million+ patients) as well as through a network of General Practices and Primary Care teams all over Ireland. www.arch.ie
Conor O'Byrne is CEO of RelateCare and former Director of Operations at RigneyDolphin. Conor was the lead consultant in the development of Cleveland Clinic's Appointment Centre. Conor has an Honours degree in Business Studies from Waterford Institute of Technology and is currently undertaking his MBA. With over 15 years of contact centre experience, Conor has thorough knowledge of patient access, telehealth, contact centre and outsourcing solutions to healthcare organizations around the world.
Brendan Casey is CEO of healthcare appointment software group swiftQueue. Brendan has a M.Sc. in International Business and over 15 years' experience in the Software Industry. Brendan brings a wealth of experience in the use of technology in delivering integrated and efficient solutions that improve patient engagement and in bringing products and services to market to both public and private healthcare providers across Ireland, the UK and Internationally.